Typically BUTTERNUT SQUASH SOUP is pureed and has some type of cream  Sour, cream cheese, whipping cream and the like in it. My family likes a hearty chunky soup as opposed to a cream based one so that's what I give them.
There's no need to follow my ingredients, clean out the fridge, freezer and put in what your family likes. Use chicken or beef if you like. Prepare this differently each and every time you make it. Find out which ones are preferred and put those in your own personal recipe collection.
This particular version is perfect for the diabetic or for Lent, add potatoes or pasta for and even heartier meal. A sandwich or crusty bread on the side and dinner is served.
BUTTERNUT SQUASH w/HAM SOUP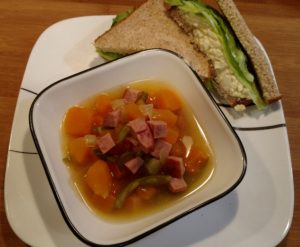 1 medium butternut squash, peeled, seeded and cubed into 3/4″ sized bites
1 medium onion, rough chopped
3 ribs celery, rough chopped
1 clove garlic smashed and minced
1 16 ounce package oriental stir fry vegetables
3/4 – 1 pound thick sliced ham, cut into 1/2″ cubes
2 tsp Accent
2 tsp vegetable bouillon base
2 bay leaves
3-4 kubabba's ( whole allspice )
6-8 cups water
Salt and pepper to taste
In a large soup pot combine squash, onion, celery, garlic, bouillon, Accent, bay leaves, kubabba and water.
Bring to a boil and simmer until vegetables are tender.
Add ham and stir fry veggies and simmer until tender and heated through. Season to taste.
Go Ahead…. " Just Try It! "