We all remember our school lunches whether those memories are good or bad. I loved the school lunches and back in those days, they were actually cooked by real lunch ladies. For the first 6 years, I went to public school and all morning long you would get a wiff of warm baked bread, soups or casseroles and those days the homemade chocolate cake was the best.
After a few years at a Catholic School that didn't do meals and we took sack lunches, which were a nice change, high school brought me back to the lunch line. Those nuns could cook like nobodies business. I was always amazed how they could have goulash on Monday and by Thursday it had magically morphed into something total different just by them adding a spice or something and suddenly goulash was replaced  by a pizza casserole or cabbage casserole and viola, no leftovers or waste.
In grade school, at lunch in the gym, as was usual for the that time. The " lunch room " monitors walked around with no smiles and made sure that nothing was wasted or food fights were started. If you misbehaved you got the dreaded " wall ". Nothing was more embarrassing as being told to go stand on the wall until you were told to leave which was usually when the monitors had made sure everyone was done eating and garbage was picked up and thrown away and it was time for her to patrol the playground.
The lunch room monitor scared the hell out of me. She was a hulking, amazon sized lady with big brown orthopedic shoes and military  clothes and if she would have smiled, it  would have cracked her face……well that's how she looked to an 8 year old. In later years, I would run into her and she was a sweet grandma who smiled all the time. She made me stand on the dreaded wall once and only once and it was  because of fish sticks of all things. I couldn't stand those nasty, dried out, overbaked, fake sticks and still can't to this day.  So being as brilliant as I am, I tried to fool her and hide those disgusting things in my milk carton. Damn it, she was like mom with eyes in the back of her head and I got busted.
My very favorite meal was SLOPPY JOE day, those sandwiches were the best thing I ever ate and mom would give me 50 cents extra so that I could get another one if there was enough left. The cooks had to make sure those mean old 6th graders had enough to eat, like they didn't have enough strength to push us little kids off the swings and steal our playground balls. The lunch lady made these SLOPPY JOE'S from scratch, no canned sauce for this cook. When I left grade school that was the memory that stuck with me through to adulthood. My mom made great SLOPPY JOE'S, but they weren't like the ones I had at McDill School.
I thought I'd never get to taste those wonderful sandwiches again and then one day, my boyfriend took me home to meet his mother. Low and behold it was the never forgotten lunch lady.  Her first words to me were, " You're the little girl that always wore dresses! " My first words were, " You're the lunch lady that made the SLOPPY JOE'S!  "
For almost 20 years she would make these for me and I did finally the oh so simple and surprising recipe from her. These yummy sandwiches will put a smile on your kids faces when you serve these for dinner with buttered corn, a side salad and chocolate cake with white frosting, just like the lunch lady used to.
Go Ahead…. " Just Try It! "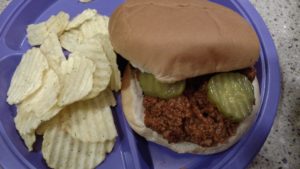 LUNCHROOM SLOPPY JOES'S
3 lbs ground beef
1 medium onion, chopped small
1 15 3/4 oz can tomato soup
1 15 3/4 oz can cream of celery soup
1 cup ketchup
1 small can tomato paste
2 tbl sugar
2 tsp Accent
Salt and Fresh Ground Black Pepper, to taste
In a large dutch oven or stock pot, brown meat until no longer pink, no need for oil, add onions and saute' until tender.
Add tomato and cream of celery soups, ketchup, tomato paste sugar and Accent. Salt and pepper to taste.
Simmer until thickened, adjusting seasoning if needed.
Serve with fresh buns and let the fun begin.
Go Ahead…." Just Try It "