I am an ice cream addict, but I'm also an ice cream purist. I hate junk in my ice cream and unfortunately 90% of it in the grocery stores has more stuff in it than that sweet, luscious frozen treat.
Being that we live in an RV because of my husbands work, space is limited. Even though I have a full size refrigerator/freezer, one of those big ice cream makers that you have to keep the container frozen, takes up a lot of space.
I found this amazing product…..Mr Freeze Thermal ICE CREAM MAKER. This little gem makes 1 1/2 pints of any kind of ice cream or sorbet in about 45 minutes.   It freezes as it churns so it does not need to be kept in the freezer. You can add anything you want from chips, cookie pieces, nuts and candy. You also have the option of soft serve, which is my preference or hard frozen.
CLICK ON THE AMAZON LINK IN THE RIGHT MARGIN TO GO DIRECTLY TO AMAZON TO ORDER.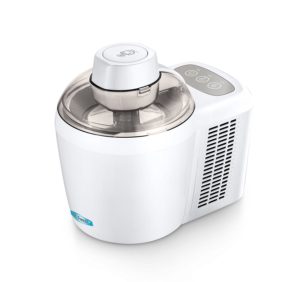 Mr. Freeze EIM-700 Maxi-Matic 1.5 Pint Thermoelectric Ice Cream Maker, White
---
| | |
| --- | --- |
| List Price: | $125.99 |
| Price: | $104.64 |
| You Save: | $21.35 (17%) |
Ships from and sold by Amazon.com. Gift-wrap available.
1.5 pint capacity and thermoelectric cooling system allows for no need of a compressor, CFC, or Freon

Suitable for making ice cream, frozen yogurt, gelato, or sorbet and has Soft and Hard ice cream settings

No chemicals, alcohol, or salt needed

Includes transparent lid

Energy-saving 90 watts

Limited 1 year warranty
I love to use different flavors, I never know what kind of mood I'm in so I keep a huge variety of flavors on hand.  I get my extracts at OliveNation.com   https://www.olivenation.com/  and I have not found a single flavor I don't like.
They offer free shipping on orders over $50 and they also have several different free samples that you can choose from to try out.
There are many different recipes for your ice cream base, and believe me I experimented, hey, I have to make sure that I am passing along as perfect a combination of ingredients as possible to you.  If I'm not going to eat it, why would you.
I found if you use heavy cream, there is too much butter fat and you wind up with an unpleasant coating in your mouth. I also discovered that if you use milk, it crystalizes and you get a grainy texture. The perfect mixture, to me, is one part whipping cream ( not the heavy ) and one part half and half.  This freezes well at either the soft serve or the hard stage.
If you want to make it sugar free, just substitute Splenda for the sugar.  I make Butter Pecan for Bobbie like this and he loves it.
This is one of  my favorites and I make it often. It's refreshing and if you'd like you can add some white chips or some vanilla sandwich cookie pieces to it.
LEMON ICE CREAM: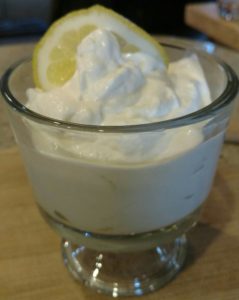 1 cup whipping cream ( not heavy )
1 cup half and half
1/3 cup sugar ( more if desired )
1 tsp lemon extract
1 tsp lemon zest
Combine all ingredients and stir until sugar is dissolved. Pout into ice cream maker and set to desired hardness.
Serve with a lemon slice on top for a fresh, cool treat.
Go Ahead…. " Just Try It! "