We all have that fruit bowl sitting on the counter that has the apples that look a little lifeless. There is always one or two different kinds, Gala, Delicious, Jazz and the ever loved Granny Smith. Not enough of one to make anything with right? WRONG, who said you have to have one flavor of apple in a pie, crumble or cobbler.
You can take all of those apples and wonderful aroma of apples and cinnamon will permeate your kitchen in very short time. Top that warm, succulent apple mixture topped with the crunchy COBBLER topping with some homemade FRENCH VANILLA ICE CREAM and you will find yourself buying extra apples next time you buy fruit.
I use VANILLA SUGAR in this topping and the ice cream, you can find the recipe on the November 16, 2016 post for how to make this tasty variation. If you don't have any, regular sugar works perfectly fine.
I get all my extracts, flavorings and baking supplies at Olivenation.com . Check them out for value and quality.

APPLE COBBLER W/FRENCH VANILLA ICE CREAM: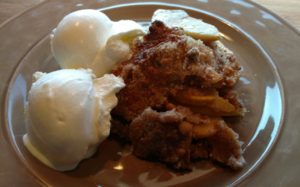 5-6 apples, any mixture of variety, peeled cored and rough sliced
3/4 cup vanilla sugar, plain sugar works just as well.
1 cup flour
1 egg
1 1/2 tsp cinnamon
1/2 cup butter, melted
Preheat oven to 350 degrees and lightly spray an 8×8 baking dish with cooking spray.
Place sliced apples in the baking dish.
In a medium bowl, combine egg, sugar, flour and cinnamon and mix until it resembles a coarse crumble.
Sprinkle on top of apples and pour the melted butter all over the top.
Bake at 350 for 30 minutes.
Serve with FRENCH VANILLA ICE CREAM
FRENCH VANILLA ICE CREAM
1 pint half & half
1 pint whipping cream (not heavy)
1/2 cup vanilla sugar
1 tsp FRENCH VANILLA extract.
Combine all ingredients until combined. If using an ice cream maker, follow manufacturer's directions for freezing.
If not using a machine. Place in a freezer container and stir every 15 minutes until a bit more than soft serve texture. Serve as soft serve or continue in freezer until frozen.