A friend gave me a recipe which included making my own blueberry sauce, pudding and whipped cream that sounded amazing, but I didn't have the time to make all the ingredients, so why should I if I don't have to.
I used pie filling, instant pudding mix and thawed whipped topping and I had a quick and wonderful  dessert that took almost no time at all and my taste testers have given it 5 stars.
As I was putting this together, I thought, there is no reason whatsoever that you couldn't use any kind of cake and pie filling. Use Devils Food cake, Cherry Pie filling and vanilla or white chocolate pudding and you will have a Black Forest Pudding Cake, use raspberry pie filling with the lemon cake and you have a raspberry lemonade pudding cake, or wouldn't a spice cake with apple pie filling and cream cheese pudding be a great combination.
It really doesn't matter, use whatever you have in your pantry and create a masterpiece. This is going to be my go to for any gathering, picnic or just because I want something sweet and satisfying.
LEMON BLUEBERRY PUDDING POKE CAKE: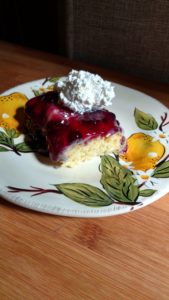 1 boxed lemon cake mix
1 3.9 oz box instant pudding
2 cups milk
1 15 oz blueberry pie filling
whipped topping thawed.
Preheat oven according to cake mix directions and prepare cake as directed. Allow cake to cool
In a medium bowl, combine milk and pudding mix and stir well, refrigerate 10 minutes to allow to set up a bit.
With the handle of a wooden spoon, poke holes in the cake and spread the pudding over, filling in the holes as best as possible. Refrigerate 10 minutes to set.
Spread  pie filling over pudding and refrigerate until ready to serve.
Top with thawed whipped topping or ice cream.
Go Ahead…. " Just Try It! "