This throwback was one of my little brother's favorite desserts. He would help mom make this after school and it would be ready to dig into by the time dinner was done.
He would have whipped cream from top to bottom and from one end of the kitchen to the other. How he managed to get the entire kitchen sticky with that cream is beyond anyone's idea. Mom would set us up at the kitchen table or the island counter and then stand back, grit her teeth and get the mop water ready.
Mom would make fresh whipped cream but if you don't have enough time or any on hand, thawed whipped topping works just as well. Just add in your vanilla or almond flavor and give it a good stir. Give the kids the cookies and some spatulas and let them create the original CHOCOLATE WAFER CAKE.
I generally have to bring my cookies back from Wisconsin, as it is hard to find them in a lot of the locations we are and even if they break, it's not a big deal because it's all slathered in the sweet, fluffy whipped cream.
CHOCOLATE WAFER CAKE: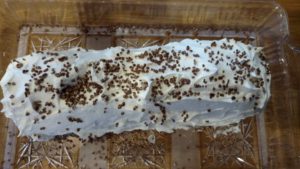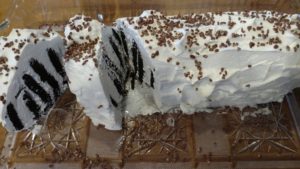 1 package Nabisco Chocolate Wafers
2 cups whipped cream or thawed whipped topping
1 tsp vanilla or almond extract
Chocolate shavings
Spread 1 to 1 1/2 tbls of cream on top of a cookie and stack 4-6 high. Continue until cookies are used, reserving enough whipped topping to be able to frost the entire cake.
Lay stacks of cookies on their side; forming a log. Frost the entire cookie/cake, cover VERY LOOSELY with plastic wrap and refrigerate 4 hours.
Sprinkle with chocolate shavings or sprinkles of your choice and cut on a diagonal.
If for some reason you have left overs, cover and refrigerate.
Go Ahead…. " Just Try It! "