Here come's Peter Cotton Tail, Hoppin' down the Bunny trail, Hippity, Hoppity EASTER'S on it's way!
Easter time, spring is in the air, little girls will have their bright, frilly yellow dresses and new bonnets, white anklets with the lace on them and patent leather shoes, white gloves and a smart pocketbook.  Little boys will have those adorable slacks with matching vests and bow ties and their hair will combed just perfect.
Then 10 minutes after church, the shoes will be scuffed, a glove will be missing, and knees will be grass stained while they crawl around hunting for eggs.
This sweet treat will look fresh and so pretty on your Easter table and it can all be made ahead of time. All you will have to do is a quick assemble.
PEACH CREPES W/BLACKBERRY SAUCE & BRANDY ICE CREAM: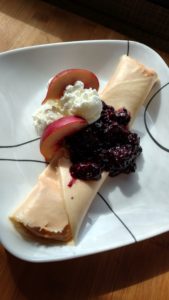 1 10 ct package crepes
2 6 oz containers peach cream cheese
powdered sugar to taste
In a mixing bowl, beat peach cream cheese until light and fluffy, adding powdered sugar ( if desired ) to taste. Set aside.
BLACKBERRY SAUCE:
2 pints fresh blackberries
2-3 tablespoons sugar, divided
1 tablespoon water
In a medium saucepan, combine blackberries, water and 1 tablespoon sugar. Bring to a simmer and slowly cook until berries give up their juice and start to thicken. Add additional sugar if desired to taste. Set aside to cool.
BRANDY ICE CREAM:
1 pint whipping cream ( not heavy )
1 pint half and half
1/2 cup vanilla sugar
1 tsp brandy extract
In a large measuring pitcher, combine all ingredients and stir until sugar is dissolved. If using an ice cream machine, fill the freezer bowl, taking care to not overfill. Depending on the size of machine, several  batches may need to be done. Follow directions for freezing.
If not using a machine, pour mixture into a freezer container and place in freezer, stirring every 15 minutes until ice cream is at a soft serve texture, then let freeze completely.
ASSEMBLY:
On each crepe, spread 2-3 tablespoons of cream cheese and loosely roll. Top with blackberry sauce and Brandy ice cream. Serve with fresh slices of peaches and/or blackberries.