Saint Patrick's Day is once again upon us. Little Leprechaun's in green suits, rainbows with Pot's O' Gold at the end of them, green beer and CORNED BEEF & CABBAGE.
Of course no one says you can only have CORNED BEEF & CABBAGE on St. Patrick's Day, in fact when I was a kid, the Blue Top restaurant in my hometown would have it every Monday. It was probably one of my favorite things there. That meat was always so tender and  the cabbage was cooked perfectly. I loved the potatoes, weird as it sounds, they used canned potatoes in theirs. There is something about those little taters in a can that gets me.
I keep a can in the pantry only for two dishes, one is the CORNED BEEF & CABBAGE , the other is to roll them in some Italian seasoned cracker crumbs and pan fry. They hold their texture perfectly.
Bobbie doesn't care for those potatoes, so I made it with traditional reds. I first cook the brisket with some onion and the seasoning packet and when the meat is almost done, I like to pull it out and strain the broth to remove the seasonings, seeds and the "stuff" that comes from cooking the brisket.
Put this in a slow cooker before you go to work and finish it up when you get home, after of course, you pour yourself an ice cold, frosty mug of green beer.
CORNED BEEF & CABBAGE: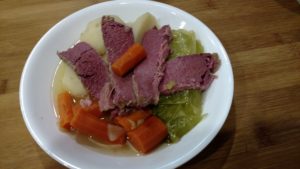 1 Corned Beef Brisket
2 onions, divided
1 medium head cabbage
3-4 medium carrots, peeled and cut into 2″ pieced
4-5 medium red potatoes, peeled and halved
water to cover brisket
Fresh ground black pepper
Place the brisket along with the seasoning packet and one of the onions roughly chopped in a slow cooker. Cover with water and cook on high 5-6 hours or on low 7-8 hours.
When meat is tender, carefully remove and set aside on a platter. Strain the cooking broth and return it to the cooker, discard stuff from strainer. Replace meat in the slow cooker.
Add the potatoes, carrots and the second onion, roughly chopped. Cut the cabbage in quarters and cut the core section out of each quarter, add to slow cooker.
Turn to high and let come to a boil and cook until vegetables are tender. Season with pepper and a bit of salt if needed. Generally the meat is salty enough.
Serve with some crusty bread or Irish Soda Bread and a fresh, crisp green salad.
Go Ahead…. " Just Try It! "