When I think of my grandparents, very different memories come to mind of my grandmothers. My mom's mom was younger than dad's mom and very active. She was the one that got us out of the Saturday house cleaning by taking us to the rummage sales and " errands " She taught me how to pick out real silver from the cheap stuff and what was good crystal and what was fake. I learned to how talk down any price that was on a sticker and to this day, my husband lets me do the negotiating when it's needed.
Each Saturday morning I had my outfit picked out to wear and anxiously waited for that phone to ring and grandma asking if I wanted to go uptown. I'd practically sprain my ankle running to get the phone before mom because I knew darn good and well she would say no I couldn't go because I had to help strip beds and wash those blasted mopboards. Of course that scenario was only in my mind, but I wasn't taking any chances.
My dad's mom; " Little Grandma ", was so very different. She was a short, quiet, soft spoken lady with porcelain skin and soft, sparkly eyes. She had bad hips so I never saw her without her crutches, but that didn't stop her.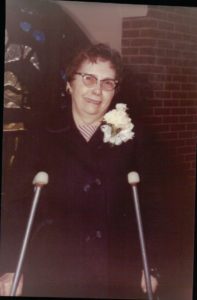 When I was a little girl she lived in a tiny town about 10 miles away. I can still see her small white house on the corner, it had the white picket fence and I remember flowers. It was a tiny house and her bedroom was off the living room, which was strange to me, she had narrow steps that went up to her attic which had a low ceiling and there was a blue and white chenille bedspread on the little bed, she always kept it made up for when one of my Uncles would come to visit.
For some reason I don't remember much about the kitchen, other than it was small as well and had white appliances, but I do remember the "wood" cereal. She always had bran cereal, I hated cereal in the first place, and to only have a choice of bran was grounds for a hunger strike. Thank goodness she also always had cinnamon sugar ready for toast so she was off the hook.
Grandma could cook, and her cooking could put the blue ribbon winner at the county fair to shame. Her pie crust was as flaky and tender and mom would have her make up big containers of dough to keep in the refrigerator for when she made pies. She always used real lard and did very little mixing with it, only her fingertips so that it would not be overworked which was what toughened up the dough.
She even made vegetables unbelievable, whether fried or creamed, her KAPUSTA ( cabbage ) was amazing. Rich, buttery, artery clogging decadence in that bowl on the table was not something anyone ever passed up.
My very favorite dish was her PAN FRIED CHICKEN. This end product  is not exactly fried, but a crisp skin and the inside is tender, juicy and smothered in a rich, glorious gravy. Grandma and mom cook potatoes on the side, I like to add mine in with the chicken to give extra flavor to them as they simmer in that golden pool of goodness.
You don't have to add carrots if you don't want, add any vegetable that your family likes. As you can see I didn't add any to this dish, Bobbie wanted creamed corn instead.
GRANDMA'S PAN FRIED CHICKEN: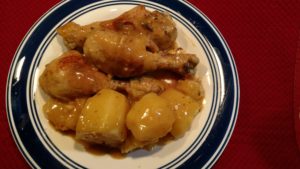 1 whole cut up chicken or pieces of your choice
Salt, fresh ground black pepper
2 tsp Accent, divided among pieces of chicken
2 tbl olive oil
3/4 stick butter
1 large onion, rough chop
6 cups chicken broth or water with 1 tblsp chicken base
2 bay leaves
3-4 kubabba ( whole allspice )
3-4 medium potatoes, peeled and cut in half
1/2 cup water, plus additional if needed
1/4 cup flour, plus additional if needed
In a skillet or electric skillet, melt butter and olive oil together.  Liberally season chicken with salt, pepper and Accent and fry until skin is golden brown in the oil/butter mixture.  Remove chicken to a platter.
Add the onion and saute' until translucent; taking care to not burn. Gently scrape up the "fond" or browned bits on the bottom of the pan ( these bits are the secret to fabulous flavorings in gravies ).
Return chicken to pan and add liquid, bay leaf and kubabba. Turn heat down to medium low and simmer for 45 minutes.
Add potatoes and carrots ( if using ), cover and simmer for additional 30 minutes or until vegetables are tender. Remove bay leaf and kubabba.
In a small bowl, mix the flour and water to make a slurry and slowly pour into bubbling broth, stirring constantly. You can double the amounts if you prefer extra gravy.  Let simmer for 2-3 minutes so the flour cooks through.
Adjust seasonings to taste.
I can guarantee you that this will become a fast family favorite and a regular in your dinner planning. When you are making it, try not to think of something your own sweet grandma made for you with love, I bet you can't do it.
Go Ahead…. " Just Try It! "