Getting ready for the big game? You can whip this HAM SALAD  up a couple of days in advance and have it chilling in the fridge, ready to pull out for that munching group that will invade your living room on game day
To this day in my Mom and dad's house there is always some type of snack sitting on the kitchen counter. She found that if there were cheese and crackers, pickled herring, shrimp cocktail or anything left in the fridge, and she put it on the counter, it wouldn't be long before it would be gone and we wouldn't be snacking on junk food. For some reason at 4:00 in the afternoon that leftover fried chicken from lunch would be sliced up with the salt and pepper shaker next to it, and every time we walked through the kitchen, we'd grab a slice and it was better than at lunch.
One of our very favorites was HAM SALAD, if mom had ring bologna left over she would use it instead of ham.  I think this was dad's favorite way. You; however can use any kind of ham you want, deli, canned, baked doesn't make a difference , even Spam if mood strikes you. We would have this HAM SALAD on crackers or as a sandwich in our lunch boxes. I don't need anything, I'll just eat it by the spoonful.
This just brings back one of those seemingly small things that has such a big memory.
HAM SALAD: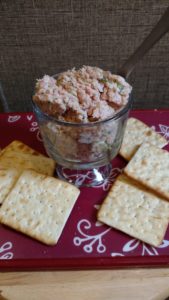 1 pound ham
1/4 small onion( optional )
1/4 cup Hellmans mayo, ( more if desired )
6 dill pickles
1 tsp Accent
Salt, fresh ground black pepper and  to taste
Run the ham, onions and dill pickles through a meat grinder.
In a medium bowl, mix the ham mixture and mayo adding more mayonnaise to desired consistency. Salt and pepper to taste.
Cover tightly and refrigerate at least 4 hours to allow flavors to meld.
Serve with crackers, chips or raw vegetables.
Go Ahead…. " Just Try It! "