Language that is meaningless or is made unintelligible by excessive use of abstruse technical terms; nonsense.
Synonyms: gibberish · claptrap · nonsense · rubbish · balderdash · blather · garbage · mumbo jumbo · drivel · tripe · hogwash · baloney · bilge · bull · bunk · guff · eyewash · piffle · twaddle · poppycock · phooey · hooey
In other words, just a mish-mash of nonsensical things. Yep that would be GOBBLEDYGOOK BARS for sure.
Mom would make these bars when she had a little bit of this and a little bit of that in the cupboard. She'd make a cookie dough and throw in whatever went good with whatever cookie base she made, press it into a baking dish and bake! These basically are a monster cookie in bar form.
There are times when you need a school snack, bake sale items, holiday trays or just because and these are perfect. I don't always have the time to make cookies and these cookie bars are so easy it's sinful. They look like you spent a lot of time on them but they take just minutes to whip up.
You can of course make the cookie dough and if you do, make a double or triple batch and freeze some for another day. Make any kind of base cookie that your family likes. My brother; Mike, was a peanut butter fan loaded with peanut butter chips and chocolate. I liked sugar cookie or an almond cookie with cranberries and white chips or toffee and chocolate chips.
Add any kind of ingredients you want, nuts, chips, toffee, candy canes or coconut, just remember to not go overboard. You don't want to end up with more "fixins" than cookie. You also don't want it to get to sweet, so be careful.
Once you take them out of the oven; while they are still warm, add any candy decorations you want. I made googly eyes on the peanut butter ones and my little taste tester said the eyes needed to be bloody because it was Halloween, so a tube of red decorating gel later, we had bloody eyes!
You can bake these up while the kids are out Trick or Treating and have a warm batch of bar cookies to go with a rich and creamy hot chocolate to get rid of the fall chill.
I like to use a package mix because there are only 2 of us and I can make the sugar cookie with craisins and white chips for my self and Bob likes peanut butter with Reese's Pieces and chopped nuts.
GOBBLEDYGOOK BARS: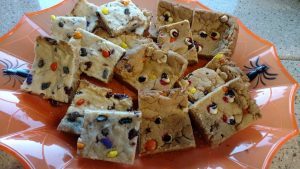 Cookie dough recipe if making from scratch
or
Package cookie mix if desired, following package mixing directions
Fixings of your choice:
Chocolate Chips
White Chips
Nuts
Coconut
Dried Fruit
Preheat Oven to 350.
Spray a baking dish with cooking spray with flour in it, or flour your pan.
Mix cookie dough as directed and add in fixings.
Spread in baking dish and bake 16-18 minutes, turning halfway through.
Remove from oven and immediately place any candy decorations you may want, pressing them in slightly.
Let cool completely before removing from pan.
Go Ahead… "Just Try It!"