Whether you put this in the oven, the crockpot or on the stove; nothing is like the warm, comforting taste of BEEF BARLEY STEW. Just brown off your beef and toss everything in the vessel of choice and forget about it.
The rich, brown gravy with the tender meat, vegetables and barley will make a party in your mouth! This is one of those dishes that you can add any kind of vegetables you have in your fridge or freezer that your family likes, it's a great way to incorporate Brussel sprouts, kids won't know they are eating them with all that luscious gravy they will be swimming in.
Enough talking, gather your ingredients and let's get this party started!!
BEEF BARLEY STEW: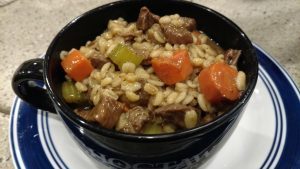 3 Tbl vegetable oil
1 1/2 – 2 lbs beef chuck roast, cut into 1″ cubes
1 medium onion, roughly chopped
1/4 – 1/3 cup flour
3- ribs celery, cut into 3/4″ pieces
2-3 carrots, cut into 3/4″ chunks
1 1/2 tsp kosher salt
1 tsp fresh ground black pepper
2 tsp Accent
1 Tbl Kitchen Bouquet
6 cups water, more if needed
1 – 1 1/2 cups barley ( medium or quick cooking )
Heat oil in a large dutch oven. Season meat with salt, pepper and Accent and brown on all sides. Add onions and cook, stirring occasionally until translucent. Sprinkle flour over the meat and onion mixture and cook 2-3 minutes, stirring often.
Add the water, celery, carrots, barley and kitchen bouquet. Cover and simmer 45 minutes or until barley is cooked and meat and vegetables are tender. If using the oven, bake 1 1/2 – 2 hours until all is tender.
If using the crock pot, 4-5 hours on high or 7-8 hours on low.
Add more water if needed if the stew is too thick. Barley will absorb a lot of water.
Go Ahead… "Just Try It!"