It's summertime and whether we want lo-cal, quick and easy or little to no cooking, you can't go wrong with a pasta salad.  This LEMON PEPPER TUNA PASTA SALAD will cover it all. You've spent the day at the beach or pool or doing that dreaded yardwork or even a long day at the office; your family is hungry and they want to eat now, tell them to go take a shower and you can whip this up in no time.
Make some extra so you can take some to work for lunch the next day. You can switch it up for another meal by adding cooked, diced or shredded chicken and just add some lemon pepper seasoning.
This is so versatile, it's a side dish for BBQ ribs or chicken or a meal in itself. If you want a bit more texture, add some broccoli or cauliflower.
So let the kids swim a little longer, work in your garden till dark and still know you will have a delicious dinner on the table in no time.
LEMON PEPPER TUNA PASTA SALAD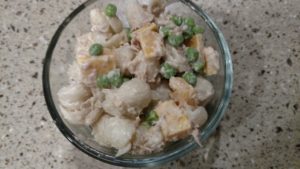 2 cups shell pasta
2 2.6 oz packages LEMON PEPPER TUNA
1/4-1/2 cup Hellmans
2 ribs celery, chopped
3/4 cup frozen peas
6 oz Cheddar or Colby cheese, cut into 1/4″ cubes
1/2 tsp Accent
salt and fresh ground pepper to taste
Cook pasta until al dente' and drain well. DO NOT RINSE, dressing will cling better if not rinsed. Meanwhile in a small kettle of boiling water cook peas for 2-3 minutes and immediately rinse or plunge in cold water to stop the cooking.
Gently combine all ingredients, taking care not mush the peas.
Refrigerate 2-4 hours to allow flavors to meld.
Go Ahead…. " Just Try It! "