I was wandering around the salad dressing isle trying to get a new idea for a pasta salad when I saw Kraft had a new dressing out, Zesty Lime Vinaigrette and inspiration struck me hard and fast. I didn't really want to do a vinaigrette dressing base, and the  ho-hum sour cream or mayo dressing wasn't doing it for me either, but…..why not combine it with Ranch dressing?
I decide to experiment with several different varieties of pasta and found that the 3 cheese ravioli or tortellini provided the texture and slightly salty flavor that blended well with the dressing.
From that point on, it was simply, anything goes, whatever was in the pantry and fridge seemed fair game, by the time it was done, I had a pasta salad that continues to be the requested dish to any potluck or picnic I go to.
Add some cooked, diced ham, or bacon for an added flavor boost, just adjust  seasonings according to taste.
I did find that avocado does not work well, it is so delicate, that when you mix it in, it tends to mush up and doesn't really lend any benefit to adding it.
Don't use bottled Ranch dressing, the powdered mix combined with the buttermilk has a much better flavor and you need the mixture to be quite thin as the pasta will soak it up. If you make it to thick, you will end up with a pasty texture.
Take this to your next gathering along with a few recipe cards with the directions and the souptravelers.com website on it and you too will getting asked to bring this CREAMY LIME RAVIOLI PASTA SALAD.
CREAMY LIME RAVIOLI PASTA SALAD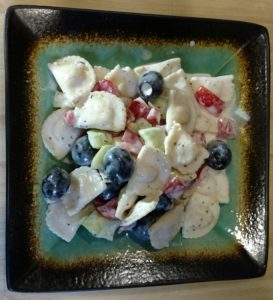 1/4 cup Kraft Lime Vinaigrette salad dressing
1 1/4 c Hellman's
1 packet Hidden Valley Ranch dressing mix or 3 tablespoons if you have the bulk container
1 c buttermilk
1 8 oz small  dry cheese ravioli pasta or any filled pasta of your choice
2 small tomatoes, cut in 1/2″ chunks
1/4 c onion, finely diced
1 14 oz can black olives, drained
1 c small cauliflower flowerettes
1 c small broccoli flowerettes
1 14 oz can artichoke hearts, drained and cut in half lengthwise
1 tsp accent
salt & fresh ground black pepper to taste
Cook pasta according to package directions in salted water. Drain well and cool to room temperature.
Meanwhile, in a large bowl combine Lime Vinaigrette dressing, Ranch dressing mix, Hellman's and buttermilk. Mixture will be thin, don't make it thicker as the pasta is going to soak up the excess.
Gently mix in remaining ingredients and room temperature pasta. Season to taste and refrigerate at least 4 hours or overnight.
Go Ahead…." Just Try It "