There is no law you can only have green bean casserole during the holidays, although your Thanksgiving and Christmas dinner tables may seem like something is missing if you don't. And as far as I know there is nothing that says you have to two dirty baking dishes when you want said casserole and pork chops.
So lets make a one dish meal! There are many different recipes for this on the internet with ingredients ranging from apples to zucchini added in. My husband likes plain basic casseroles, nothing fancy. So that's what I give him and he is as happy as can be.
You can make this in the crockpot if you like and if you don't want to brown the chops, that's okay. I like to brown mine if I have the time. I served this meal over rice, but if you want potatoes are pasta are great options as well.
PORK CHOP AND GREEN BEAN CASSEROLE: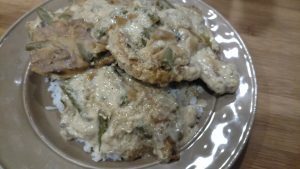 4 pork chops, bone in or boneless
3 Tbl cooking oil
2 15 1/2 oz cans cut green beans, drained
2 15 3/4 oz cans cream of mushroom soup
1 large can evaporated milk
1 cup French's Fried Onions, divided
1 tsp Accent
Salt and fresh ground black pepper to taste
Preheat oven to 350.
Spray a 13×9 baking dish with cooking spray.
In a large skillet, brown pork chops in 3 tablespoons oil, remove and set aside.
In same skillet, add the cream of mushroom soup and evaporated milk, cook over low heat until well combined. Add green beans and stir to combine. Stir in 1/2 of the fried onions. Remove from heat.
Pour bean mixture into prepared baking dish and top with pork chops. Cover tightly with foil and bake for 1 hour or until pork chops are tender.
****If using the crock pot; cook 5-6 hours on low or 3-4 hours on high.****
Serve over rice or buttered noodles.
This is a great way to use left over green bean casserole from your Thanksgiving Dinner, just make an extra large batch and put some aside for the next day with the pork chops.
Go Ahead… "Just Try It!"