It's Throwback Thursday time, how many of you remember SOS? If your dad was in any branch of service, I'm sure you had this. Some had it with ground beef or sausage and some with dried, chipped beef.
Mom always made it with dried beef. You can still buy the jars of dried beef in the canned meat section of the grocery stores, but it is very salty. Mom found the better option is using the paper thin packaged beef by Buddig. It's not as salty and of course it is moister.
This was and still is one of my favorites, when I want a warm fuzzy feeling on cold winters day, this is a quick go to and can be for breakfast, lunch or dinner. When we were kids it was for breakfast or an afterschool snack. Dad loved this anytime and if mom tossed a couple of sunny side up eggs on top of it, it was even better.
CREAMY CHIPPED BEEF (SOS)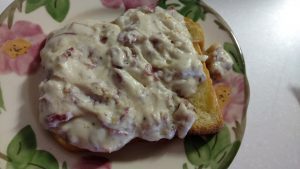 2-3 6 oz pkg Buddig sliced beef or corned beef
1 stick butter
1/2 c flour
1 1/2 c half and half
2 tbl horseradish mustard
salt and fresh ground black pepper to taste
1 tsp Accent
Toast, English muffins or biscuits
Cut beef into strips and then cut the strips in half ( so they are not so long ), set aside.
Melt butter over medium heat, be careful not to let it get brown. Once melted, add 1/4 cup of flour and stir well, add the rest of the flour a little at a time until you have a nice thick roux.
Slowly add the half and half, stirring until the desired consistency. Add the beef, mustard, Accent and salt and pepper to taste.
Take care to not boil so it does not curdle.
Serve over buttered toast, English muffins or biscuits.
If desired, top with eggs cooked any style.
Go Ahead… "Just Try It!"