My mom loved to try new things so there was always something fun in the kitchen to taste test when we got home from school. This TUNNEL OF FUDGE CAKE has been a favorite for my brother and I and now his daughter has it in her top 5 favorite treats.
This cake can be made in 15 minutes and with another 15-30 minutes in the fridge it's ready to dive into. Use any kind of pudding to suit your tastes or the season.
Pumpkin or caramel with chopped nuts during the fall will pair nicely with a warm mug of apple cider.
Crush up some peppermint candies and mix in with the chocolate fudge pudding and serve it with a steaming mug hot cocoa topped with extra marshmallows.
In the springtime, lemon pudding and decorate the top with fresh lemon twists and a cup of tea will be a sweet treat with a good friend and an overdue chat on the front porch.
No matter what flavor profile you choose, it's sure to be a hit.
TUNNEL OF FUDGE CAKE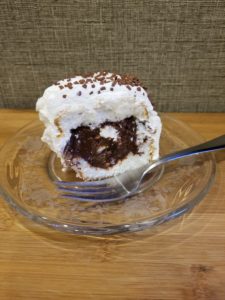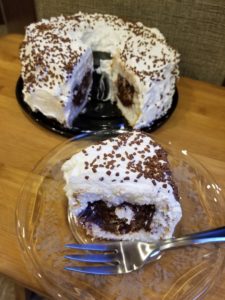 1 Angel Food Cake
1 3 oz box instant pudding, your choice of flavor
1 1/2 cups milk
16 oz container Cool Whip thawed
Cut about 1″ off top of angel food cake and set aside.  Hollow out bottom portion of cake reserving the pieces you've removed. Slightly press inside of hollow to compress the cake a bit and to make the tunnel a little larger.
Meanwhile in a medium bowl, mix the milk and pudding mix together and let stand 5 minutes to soft set. Gently stir in the pieces of cake you saved from the center of the cake.
Put filling into the tunnel and place top of cake back on. Frost cake with thawed cool whip and set in refrigerator for 30 minutes to set.
Decorate as desired and pull your hands away fast when you set it on table!
Go Ahead…. " Just Try It! "