Our family always had Easter breakfast after church. Grandma would have ham, fresh rolls, polish sausage and of course the eggs that we kids had so eloquently designed and dyed. It was a very simple meal and the polish sausage was my favorite part of it. It was unfortunately also my cousin Andrea's favorite as well. That kid could eat sausage until she burst. To this day I still tease her about leaving some for everyone else. Not that anyone ever missed out on any, but it wouldn't be Easter if I didn't give her a polish sausage jab or two.
Grandma also had sweets on the table, Danish, doughnuts, cookies and her RASPBERRY PRETZEL TORTE. This has always been one of my favorite deserts. The sweet Jell-O and salty pretzels create a unique flavor combination and texture.
It's by no means a difficult dish to make, most of the "work" is being done during the chill time in the fridge. You can make this while the little ones are dying the eggs and making up the table decorations of Peep's, jelly beans and chocolate covered marshmallow eggs.
RASPBERRY PRETZEL TORTE: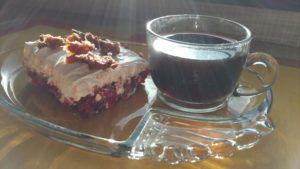 2- 3 ounce boxes raspberry Jell-O
2 cups boiling water
1- 12 ounce package frozen raspberries, thawed but NOT drained
1 cup pretzels broken into pieces
TOPPING:
8 ounces cream cheese, softened
8 ounces frozen whipped topping, thawed
1/4 cup sugar
1 tsp vanilla
PRETZEL TOPPING:
1 stick butter
2 tablespoons sugar, plus more for final sprinkle
1 cup crushed pretzels.
Spray an 8 x 12 baking dish with Pam, combine Jell-O and boiling water in a large bowl, stirring until Jell-O is dissolved. Add thawed raspberries ( with juice ) and broken pretzel pieces and pour into prepared dish.
Refrigerate until set.
Meanwhile, in a medium bowl, beat cream cheese and vanilla until light and fluffy. Fold in thawed whipped topping. Spread over Jell-O layer and refrigerate 2 hours.
Melt 1 stick butter and stir in 3 tablespoons sugar.  Add crushed pretzels and stir well. Spread on a baking sheet and place in a 350 degree oven for 10 minutes stirring half way through. Remove from oven and give an additional sprinkle of sugar.  Let Cool and sprinkle on top of torte when ready to serve.
Grandma's recipe calls for 1 cup of sugar in the cream cheese and whipped topping layer, I find that a bit sweet, so I cut the sugar to 1/4 cup and it was just perfect. If you like it a little sweeter, make it your own and go as sweet as you like.
I can almost bet this will become a holiday favorite on your table and will be the dish you are asked to bring to pass at a pot luck.
Go Ahead…. " Just Try It! "