Your Easter Sunday Brunch table will get rave reviews if this CHOCOLATE BANANA BREAD PUDDING is front and center of the dessert section.
It's so quick and easy to put together and everything you need is more than likely in your pantry. Change it up a bit and use half chocolate and half white chips, or make it an "Elvis" bread pudding and use half chocolate and half peanut butter chips. Serve with flavored whipped cream for a beautiful finish.
KITCHY KITCHEN TIP: Use stale cake or glazed doughnuts, or any mixture of white bread.
CHOCOLATE BANANA BREAD PUDDING: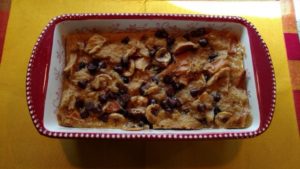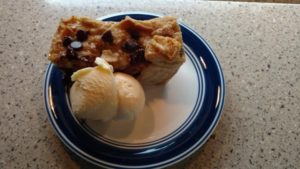 4 eggs ( I used 3 jumbo )
2 cups milk
1 cup sugar ( I used 2/3 cup )
1 tbl vanilla ( almond is also good )
4 cups French Bread Cubed
2 bananas, sliced
1 cup semisweet chocolate chips ( I used 3/4 cup )
Preheat oven to 350. Spray a 9×5 loaf pan with cooking spray.
In a large bowl mix eggs, milk, sugar and vanilla until smooth.  Stir in bread, bananas and chocolate chips. Let rest 5 minutes for bread to soak up custard. Pour into prepared pan.
Line a roasting pan with a damp towel. Place loaf pan with bread and custard on towel inside the roasting pan and place on rack in oven. Fill roasting pan with SCALDING HOT water to reach about half way up the side of the loaf pan.
Bake for 1 hour or until  a knife inserted in the center comes out clean.
Let stand for 30 minutes to allow custard to set. Serve with ice cream or whipped topping.
Take 10 minutes to prep and let it bake for an hour, couldn't be simpler, so
Go Ahead…." Just Try It "