LEEKS are in the onion family, but much milder. If I am going to be using raw onion in anything, I prefer to use the leeks because of the mildness. They are a bit pricey, but one bunch, which usually consists of 3 LEEKS is more than enough a good size kettle of soup.
Cut the green part off of the LEEKS and slice the white part lengthwise. Thinly slice each half and put in a colander so you can give them a good rinse to get any dirt out from in between the leaves.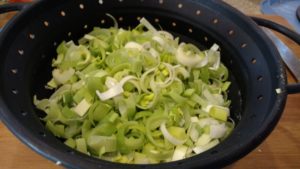 LEEKS make for a beautifully soft cream of potato soup. The flavor is not overpowering and paired with sandwich or a fresh, crisp green salad you have an amazing meal.
If you'd like; add some meat, ham or nice smoky bacon finely chopped will round it out completely
POTATO LEEK SOUP: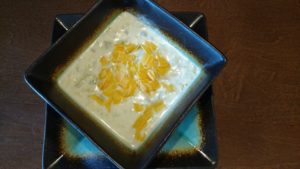 1 bunch ( 3 ) leeks, halved and thinly sliced
1 stick butter
2-3 tbl flour
32 ounces chicken broth
Additional water or broth if needed for thinning
1 tsp chicken base
3-4 medium potatoes, peeled and diced
2 cups + more if needed cream or milk
1 tsp Accent
Salt and fresh ground black pepper to taste
Trim off the green leaves of the leeks and discard. Slice the white part of leek lengthwise and slice each half into thin slices. Rinse well to remove any dirt in between the leaves.
In a large dutch oven or soup kettle melt the butter on medium low heat and add the sliced leeks. Saute' until leeks are reduced by half the size and are very soft.
Sprinkle flour in and stir well to coat, let cook 2-3 minutes to allow flour to cook.
Add chicken broth, Accent  and potatoes, cook, stirring occasionally until potatoes are tender.
Remove from heat and allow to cool to room temperature.  Add cream or milk, adjusting the consistency to your liking. Season to taste
When ready to serve, slowly warm, DO NOT BOIL otherwise the cream will curdle.
Top with shredded cheddar cheese if desired.
Go Ahead…. " Just Try It! "