Whether you want a dessert that looks sophisticated or something special for the kids that get great report cards, this EASY ICE CREAM CAKE fits the bill.
There is no end of ways you can make this quick and easy treat the one they all ask for. You can add nuts, candy, fruit, cookie pieces and any kind of ice cream that is a favorite in your house.  Try using two different flavors to keep more than one family member happy. The options are only limited by your imagination.
Make your own ice cream and it will be that much more special. The picture below is my own homemade Champagne ice cream with just a touch of orange…..VIOLA, Mimosa ICE CREAM CAKE!
EASY ICE CREAM CAKE: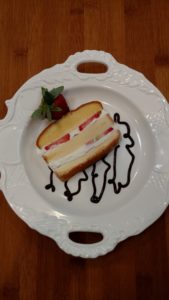 1 Frozen pound cake, thawed
2 pints ice cream your choice, slightly thawed to a spreadable consistency
Fresh Fruit, candies, nuts, cookies etc. if desired
Remove thawed pound cake from foil pan, do not throw away pan or lid. Line pan with plastic wrap leaving enough wrap hanging over the sides so that you can loosely wrap the cake.
Slice cake lengthwise into 3 slices. Place the bottom slice of cake in the pan and spread 1 pint of ice cream evenly over it. Top with fruit, or other goodies if desired.
Place the middle slice of cake on top and repeat the layer of ice cream and toppings.
Top with remaining slice of cake and press slightly and loosely cover with the plastic wrap and put lid back on top.
Freeze 3-4 hours or until firm.
When ready to serve, remove and let stand at room temperature for 15 minutes to slightly thaw.
Drizzle chocolate or raspberry sauce on a plate and place slice of cake on top.
You can finish it off  with additional ice cream or whipped cream if you like.
This can be an elegant treat for afternoon coffee with the girls or let the kids get creative with a couple of them filled with gummy worms and malted milk balls for their own creation for a birthday party. Either way…..
Go Ahead…." Just Try It! "