You had a baked ham on Sunday and you've had ham sandwiches, ham omlettes, split pea soup, chefs salad and you still have meat left over, what do you do with it? SCALLOPED POTATOES w/HAM!
This dish is so easy to make when you get home from work, you will have it in the oven before the kids are done with their homework. It also makes such a  great leftover for your lunch at the office the next day that you will be asked for the recipe when your co-workers smell it warming in the microwave.
You can either bake this in the oven or use an electric skillet. If using the electric skillet, you just need to slice the potatoes a bit thicker so that they don't break apart when you occasionally stir them.
SCALLOPED POTATOES with/HAM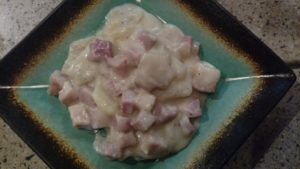 6 medium potatoes, peeled and thinly sliced
2 cups cooked ham, cubed
1 medium onion, cut in half, thinly sliced and half rings separated
2 tsp each salt, fresh ground black pepper and Accent, divided
1/2 cup flour divided
1 cup half and half, more if needed
1 stick butter,  cubed and divided
1 cup shredded cheddar cheese, optional
Preheat oven to 350
Lightly spray a 9×13 baking dish with cooking spray.
In bottom of baking dish, place a layer of potatoes and top with a layer of onions. Season with some of the salt, pepper and Accent. Sprinkle with half of the flour and top with half the ham and butter.
On top of ham, repeat the above the layering, depending upon the size of your potatoes, you may need to do a third layer, just adjust the dividing of the ingredients accordingly.
Pour half and half over all and cover tightly with foil.
Bake at 350 for 1 1/2 hours, checking after the first hour to see if potatoes are tender or if you need to add some more of the half and half.
Remove foil and top with cheese if using and let bake for 5 – 10 minutes  or until cheese is melted and bubbly.
Add some warm crusty bread with lots of butter and a crisp green salad for a satisfying and warming dinner.
Go Ahead…. " Just Try It! "