It's Christmas time and there are just some timeless classics that simply must be on the cookie platter. Whether on the mantle with a glass of milk for Santa, a cookie exchange or just on the table with all the other delectable goodies, the PEANUT BUTTER KISSES are the ones everyone from the littlest to the oldest look for; after the cut out sugar cookies.
My brother, Michael loved these as a kid, but then again; give him a jar of peanut butter and a spoon and he was as happy as can be. That kid would have peanut butter and the batter from ear to ear from licking the beaters and bowl. There always seemed to be so much left in that mixing bowl that we each had enough dough to share plus the beater. Mom always got the spatula and if I remember correctly, there was quite a bit on that as well.
She would sit us at the table with that dough and a cookie sheet in between us and we'd get to rolling, her eagle eyes were always watching and when one of those balls were too big, we had to take some of it off and re roll it.
Mike was always licking his fingers after each cookie was formed and then rolled in sugar, he'd finish one, lick his fingers and grab dough for another one. Good thing the health department wasn't around to see that, but we all lived through his little brother germs. Luckily the ones we hand our hands in didn't go for the cookie exchange.
We had a pretty good system down, we'd get one tray loaded up and mom would whisk it away into the oven and an empty cookie sheet was there for us to fill up again. She'd pull the done tray out, and set it to cool and stick another one in the oven. We must have had 3 or 4 sheet pans that we worked with to keep the momentum going.
She always let us put the kisses on top of the cookies, it never mattered if they were crooked, or pushed in too deep, or up side down, that never changed the taste.
I like to make these a bit smaller and add two miniature chocolate kisses, that way you can get the chocolate with the peanut butter in each of the " Two Bites "
Let the kids have some fun rolling and sticking the kisses on these yummy goodies, Christmas is supposed to be fun and what can be more fun that getting your hands dirty with cookie dough?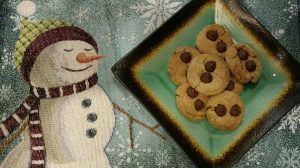 1/2 cup sugar
1/2 cup brown sugar, packed
1/2 cup creamy peanut butter
1/2 cup butter
1 large egg
1 tsp vanilla
1 1/2 cups all-purpose flour
3/4 tsp baking soda
1/2 tsp baking powder
additional sugar
miniature chocolate kisses
Preheat oven to 375. In a large bowl beat 1/2 cup sugar, brown sugar, peanut butter, butter, vanilla and egg until light and fluffy.
Add the baking powder and soda and slowly add the flour mixing well until dough forms.
Roll dough into into 1″ balls, or use a melon baller, then roll in additional sugar. Place dough on an UNGREASED cookie sheet about 2 inches apart.
Bake 8-10 minutes or until edges are light golden brown. Immediately press 2 chocolate kisses candies into each cookie.
Remove from cookie sheets to cooling racks.
Go Ahead… "Just Try It!"