Meatloaf is one of those all purpose meals, you have it for dinner, the leftovers are great as a sandwich and if you are in my house, my husband likes it with a couple of fried eggs on it for a breakfast sandwich.
This meatloaf is so easy to make and takes literally no time to throw together when you get home from work late or double the recipe if  you suddenly find yourself with extra people for dinner. Pair it with mashed potato patties and dinner is ready is good to go.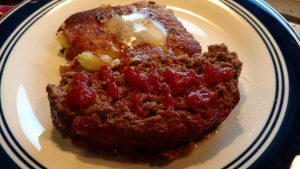 1 1/2 lbs ground beef
1 small onion, finely chopped
2 eggs
1/3 cup bread/cracker crumbs
1 tsp kosher salt
1 tsp fresh ground black pepper
1 tsp Accent
1 bottle chili sauce, divided
Preheat oven to 350.
In a medium bowl, combine ground beef, chopped onion, eggs, cracker/bread crumb, salt, pepper, accent and 1/4 cup of the chili sauce.
Gently mix until combined but do not over mix as meatloaf will toughen.
Place in a loaf pan or baking dish and spread approximately 1/4 cup of chili sauce on top.  Bake 35-45 minutes, basting with additional chili sauce as needed or desired, removing any liquid with a baster, that gathers in the bottom of the pan so that the meat doesn't " boil "
When done, let rest 10 minutes before serving.
Serve with mashed potato patties or baked potato and a crisp green salad.
Go Ahead… "Just Try It! "